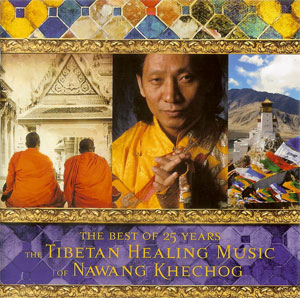 Nawang Khechog is one of Tibet's premiere musicians and composers. He spent some years as a monk in India and has studied under the Dalai Lama for three decades. He lived as a hermit in the foothills of the Himalayas for four years. Nawang Khechog has performed with a dazzling array of western musicians including Laurie Anderson, Peter Kater, David Bowie, Carlos Nakai, Kitaro, and Philip Glass.

Nawang brings a vast store of spiritual integrity to his musical expression. His flute playing occupies a place somewhere between heaven and earth. The melodies he creates demonstrate his close union with the natural world as well as with the human collective. It's something beyond a musical prayer since it occupies some etheric dimension. 

Nawang doesn't just "talk the talk" about people being kind to one another; listening to his music will actually make you want to be a better person. His purpose is seamlessly fused with his music-making. That's a special kind of magic! For any listener who wants to explore spirituality and soul evolution through the medium of music, this is the Philosopher's Stone.

This two CD set is a collection of the crème de la crème of Nawang's twenty-five years as a recording artist. The focus of the music is healing and human kindness towards other people, animals, and the Earth. He writes in the insert, "We must try our best not to hurt each other, and we must try our best to serve and be helpful to each other." He begins each performance with his Kindness Phrase: May all be kind to each other.

The songs include guest artists from the west along with artists and groups from Tibet. A few are recordings that have not been previously released. Some tracks are entirely instrumental and range from solos and duets to larger instrumental groups. Some tracks features mantras chanted by Nawang; two songs feature thousands of celebrants being led in chant by H. H. the Dalai Lama. There is some singing included, and this varies in tonality from eastern to western style. One song features the didgeridoo as a fierce accompaniment; another features a marimba used in a highly unconventional but effective way.

Work by a Tibetan musician associated with the exiled Dalai Lama is certain to include remarks to western consumers about the "Free Tibet" movement. This group carries on the decades-long struggle to overthrow Chinese control of Tibet and stop their systematic destruction of the indigenous Tibetan culture, their land, and their religious institutions. The insert describes the PRC's efforts to uproot and relocate two million nomadic tribespeople of the Tibetan Plateau who have lived in harmony with the earth in this region for some 9,000 years. (see: nomadrights.org/fact-vs-myth/tibet.net). In spite of China's dismal human rights violations and their oppression of indigenous groups from Tibet to Mongolia, the US government, multi-national corporations, and Walmart in particular continue to do business there. Think about that before buying something stamped "Made in China."

Overall, this is a widely-varied collection of musical performances. It's a great introduction to Nawang Khechog's artistry, and his collaboration with both eastern and western musicians provides something for everybody. People who have not experienced Tibetan-style music will find it enlightening. The collaborative fusions make it more accessible to western ears. Nawang Khechog's work is an easy introduction to World music, and it's less alien than music from India or the Middle East. The music in this collection is usable for meditation, Reiki sessions, rituals, and for decompressing after a rough day at the office.

Individual tracks, collaborators and instruments are described in detail below. Very highly recommended to long-term Nawang fans, and a stellar introductory collection for people who are new to World music. As always - Free Tibet! 

….....................................

Disk 1
Track 1 "Harmony in Balance" (4:38) is a flute duet between Nawang and Carlos Nakai.  A partnership of a Tibetan and a Native American flautist may seem weird, but your hair will stand on end as you hear these two flute-masters trade the melodies back and forth in perfect accord. It feels like the sky is being peeled open by the gentlest hands so it can kiss the earth, and it's absolutely sensational.

Track 2 "Kindness Phrase Endorsed and Blessed by Ten Nobel Peace Laureates" (4:40) is an unreleased track. It's a wandering flute melody accompanied by an otherworldly synthesizer and a tabla-beat. Nawang chants his Kindness Phrase intermittently through the music.

Track 3 "1st Movement: Sentient Beings" (7:10) is another fusion of Tibetan and Native American instruments and voices. It gives an awesome feeling of universal spirituality - you'll feel your chakras whirling up and down your body as the music takes hold. The music shifts to an orchestral section with Geoffrey Gordon playing the cello.

In Track 4 "Dance of Innocents" (7:08) pianist Peter Kater accompanies Nawang in a soothing meditative piece. It gradually swells into a windswept adagio song-poem.

"Chant of Universal Compassion" (Track 5; 5:54) begins with cello and flute. Bells herald the entrance of the choir, which includes H. H. the Dalai Lama and thousands of lamas, nuns, monks and lay people performing a chant accompanied by drums, cello and Nawang's flute. The impact is overwhelming.

Track 6 "Infinite Love" (6:14) begins with the chant "Om mane padme hoong." An elegiac cello melody is both wistful and mournful. Wind chimes tinkle as a string section swells in accompaniment. It is reminiscent of the soundtrack from "Hero" (starring Jet Li) as performed by Yo-Yo Ma.

On Track 7 "Freedom in Exile" (6:10) Nawang demonstrates the range and power of his bamboo flute. The sounds and effects he draws from his instrument are breath-taking. I was covered with goose-pimples. Listening to this is as good as a session with an acupuncturist.

"Universal Compassion" (Track 8; 7:47) blends chants, singing, Tibetan flute and Korean Zen flute, and diverse east-west instrumentation.

"A Daily Prayer and Practice of the Dalai Lama" (Track 9; 6:19) scales back to an interplay between flute, singing bowl, bell, and chanting. It's the musical equivalent of an oriental flower arrangement, sparse but elegant.

"Wisdom Heart" (Track 10; 6:13) features Fara Tolno drumming with Nawang's flute. The drummers are impressively skillful. The track is deceptively simple, and is performed with exquisite control and mastery. The four-beat never yields an inch, although it's ornamented with elaborate variations and riffs throughout.

Track 11 "Meditation" (5:16) rejoins Nawang with Carlos Nakai. This song is delicate and soothing, as one would expect from a track from the "Music as Medicine" CD. Deborah Schmit-Lobis keeps a light hand on the synthesizer that accompanies the flautists.

Disk 2
Track 1 "Quiet Mind" (3:29) offers a thoughtful flute melody accompanied by the sounds of wind and thunder.

"Ocean of Wisdom and Universal Compassion" (8:36) is an unreleased track combining flute, chants, ocean waves, and Deborah Schmit-Lobis playing piano.

"Wanting Peace" (Track 3; 3:28) is a flute solo from the "Sounds of Peace" CD.

Track 4 "Om Mani Padme Hoong" (6:24) features the mantra accompanied by drums, bell, and flute. The slow, stately bass drum gives the effect of a formal procession. Eventually chanting voices rise from the background. This popular mantra translates loosely as "May the lotus of awareness unfold," making it a chant that induces a higher state of consciousness. The musical accompaniment beautifully reflects this purpose.

"Universal Love" (Track 5; 6:45) features the Chant of Universal Compassion performed by the Dalai Lama surrounded by thousands of monks and nuns. It's a recording of a Bodhisattva prayer composed in the 8th century. The chanters are accompanied by a big low drum, long horn, and piccolo flute. This piece goes straight to the heart chakra! The sound of the thousands of chanters is awe-inspiring, and His Holiness the Dalai Lama leads them with immense spirituality and gravitas.

"Five Peak Wisdom Mountain" (Track 6; 5:19) returns to meditation music. The flute is accompanied by the long horn and bell, synthesizer, and oud (a string instrument). Spoken chants float in and out of the instrumental texture.

"Music as Medicine" (Track 7; 9:02) is the title track of another CD. Nawang sings a Tibetan low chant while alto Beth Quist sings a descant. They are accompanied by violin, cello, and a marimba, which sounds quite surprisingly like eastern bells rather than a Caribbean harmonic percussion instrument.

"Tibetan Dream Journey" (Track 8; 9:05) features another unusual group of instruments. The Tibetan flute is joined by singing bowl, damaru, South American panpipes, and drums. Some spoken phrases float through the background.

"Tienanmen Square for Chinese Warriors" (Track 9; 8:31) includes Tibetan flute and Aboriginal didgeridoo. The didgeridoo opens the piece. The flute arrives and makes a simple melodic statement which it then repeats an octave higher, as though it's insistent to get it's point across. No matter what the didgeridoo does, the flute keeps coming back to make its statement. The flute struggles and wanders off course for a bit, and then returns to its original melody. It's like the persistent water that wears away the stone grain by grain. The didgeridoo plays the marching soldiers and tanks in Tienanmen Square, under orders to crush the rebellion with force. The flute struggles on and fades. In the end, the flute returns again, an octave higher and restates it's original intention, unbowed and undefeated.

"Healing Through Compassion, Wisdom & Omnipotence" (Track 10; 4:39) also includes the "Om Mane Padme Hoong" mantra, although in this case, the instrumental mix includes the Tibetan Flute, Choe drum, bell, and synthesizer. It's a sharp departure from western harmonic content that may make listeners unfamiliar with polytonality a bit uneasy. This is the kind of track that will grow on you over time.

The final track "Universal Dance of Kindness" (Track 11; 5:46) opens with wind chimes and a thunderstorm. The synthesizer and a temple bell lead into the flute's opening statement. The synth joins with an accompaniment, but for the most part, this is a spare, low-key performance. The mantra returns at the end with an evocative cello solo. 

~review by Elizabeth Hazel

Artist: Nawang Khechog
Sounds True.  Inc., 2013
2 hours 20 minutes. 2 disk set.