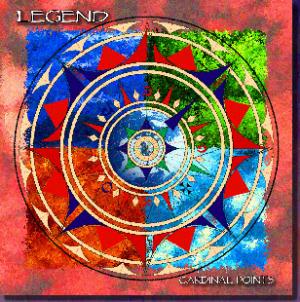 One of the pleasures of reviewing is discovering new and exciting artists that everyone else already knows about. Legend is my recent discovery. Formed in 1988, this UK-based band released three acclaimed albums in the 90s featuring driving rhythms, catchy melodies, and an operatic female vocalist. After nearly 15 years they released their fourth album: Cardinal Points.
The album is a musical exploration of the four points of the compass and their relationship to the four elements. The four songs are at least 13 minutes long, and the album is designed to be listened to as a single entity.
The vocalist, Kerry Parker has a great voice, strong, rich, and deep – just how I like my female voices. The musicality is tight with complex melodies and changing time signatures. Overall the sound is based on rock and roll (driving rhythms – check, catchy melodies – check), but the
This is EXCELLENT Pagan music! Highly recommended.
~review by Lisa Mc Sherry
Artist: Legend
2011 No Fish Productions
www.stevepaine.org