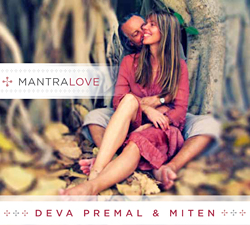 This new song collection is a terrific blend of Deva Premal and Miten's music. It's a selection of previously released tracks with a few unreleased songs thrown into the mix. The album is a great blend of devotional, inspiring, funky, and cosmic music that provides a relaxing soundscape.
Contents include:
1. Om Triambakam (Deva P)
2. Na Ki Le (Miten) a slinky-funky track, from "Global Heart Native Soul"
3. Shyami (Deva P) an upbeat chant with flute/voice
4. Vertical Reality (Miten with Deva P, from "Songs for the Inner Lover) funky song with vocalists
5. Aham Prema (Deva P)  from "Password," a hypnotic chant with vocals, guitar and flute
6. So Much Magnificence (Miten with Deva P, from "Songs for the Inner Lover") a relaxed, down-tempo song with a gospel choir
7. White Tara (Deva P with the Gyuto Monks of Tibet, on "Tibetan Mantras for Turbulent Times" CD) A setting of the "Om Tare tu tare ture" chant
Jai Radha Madhav (Desert Dwellers remix) from the Deva P release "Deva Lounge"; a soulful remix of this gentle chant
8. Beautiful Surprise (Deva P & Miten, from "The Download Singles") sung by Miten with Deva P singing back-up
9. Om Asatoma (Ben Leinbach mix) from "Ben Leinbach Presents Sangha." A beautifully melodic re-setting of this classic Sanskrit chant with guitar and gorgeous layered vocals.
10. Shadow of Light (Miten) Miten sings this song with a laid-back Jimmy Buffet-style downbeat.
This is an absolutely a wonderful album to listen to for relaxation, socializing, or post-ritual feasting! If you don't have previously released CDs by Deva Premal or Miten, this is an excellent collection of great tunes to kick back to. The combination of his & hers makes for an ideal balance.
~review by Elizabeth Hazel
Artists: Deva Premal & Miten
SoundsTrue 2013
11 tracks, 1 hr 12 minutes
CD $15.21, mp3 $9.49