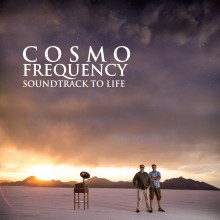 Tech-wizards Paul Martinson and Brent Vincent are the group Cosmo Frequency, with vocals by Lisa Wegener. "Soundtrack to Life" is their debut album, mixed and mastered at Noisebox Studios by Dave Zimmerman.
The music is in the New Age/electronica category. The pieces reflect the idea of particles moving through the cosmos creating waves, oscillations, and frequencies. There are a mix of slow and mid-tempo songs created with synthesizers, Native flute, drums, bass, brass, guitar, percussion, and Lisa's vocal contributions.
Track 1: Within the Veil is a space-age introduction. Track 2: The Gift is like a space-age marching band song and features sounds of solar wind. Track 3: Apollo Skies is an up-beat synth number decorated with light piano riffs; it was inspired by the Apollo space missions. Track 4: Classic Story has a dance rhythm with a bubbling sync melody. Track 5: Chillaxin slows to a more funky rhythm, offering a sensuous bass/drum lead with a synth counterpoint.  The wood flute picks up the melody and carries it forward. Track 6: Canyon Chant is a relaxing warm song with flute and tribal drumming. Track 7: World of Light is a vocal number with an intergalactic accompaniment – think Maroon 5 in outer space. This is one of my favorite songs on the CD. Track 8: Eventide is an instrumental song featuring guitars and synth with a mildly Latino-flavored rhythm.
Track 9: Winter Solstice is an elegiac song to the North Star and winter. It gives a sense of snow falling quietly over a landscape. Tracks 10 and 11 are Mount Emotion, Parts I and II. Complex orchestral layers make Part I sound like part of a film soundtrack. Part II shifts into a progressive trance beat. The final song, Track 12: Horizon, opens with a piano introduction that returns to an orchestral idiom. It reminds me of the theme from "Chariots of Fire" with its triumphant chordal patterns. It was inspired by the Winter Olympics.
Martinson and Vincent have a terrific ability to unite their talents in composing and recording complex, multi-layered songs. This CD has an experimental feel to it, as thought the musicians worked on a variety of musical ideas. The songs aren't cohesive, and this isn't a holistic concept album. Everything is well done and ably performed. Hopefully the team will get together again and create a coherent concept album.
Those who plan music for rituals will find some of the tracks useful for initiation rites, awards ceremonies, and entrance/exit processionals. "World of Light" is a great stand-alone vocal number. A few of the tracks are good dance music. This CD offers a variety of moods and flavors for listeners.
~review by Elizabeth Hazel
Artist: Cosmo Frequency
Cosmo Frequency 2013
52 minutes, 12 tracks
$8.99