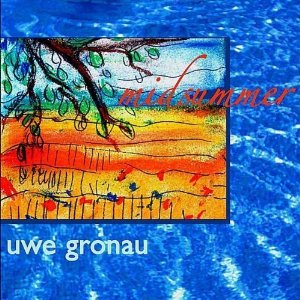 I first learned of Uwe Gronau from his work with Luna Blanca on their album Provence, and I was excited to receive his double CD release, Midsummer for review.* Midsummer features a rich blend of acoustic and electronic music that combines elements from diverse genres such as jazz, pop, pro-rock, ambient, techno, and space. The instrumental tunes are inspired by four things -- nature, philosophy, people and the seasons (the song titles let you know which category).
Gronau is a well-known German musician and composer. He decided to base Midsummer on ideas presented by one of the world's greatest philosophers, Ludwig Wittgenstein, who studied the relationship between reality and thought. "What he showed me," explains Gronau, "is that when language gets to a border and can go no further, music can give you a new perspective."
"Where language stops, music starts," Gronau states. "Music is the only possibility for me to touch areas which cannot be described with words. I can express myself with a musical language. Creating music is like a meditation to find a way into a different world where you are alone. For every musical poem conceived, you must dive deep into yourself."
The first CD is mostly instrumentals with complicated rhythms and percussion; it reminded me a great deal of the synth-rock stylings of Tangerine Dream and Jan Hammer. The second CD is more reflective, reminding me of the works of George Winston.
At 35 songs, this is a rich collection of work, and its recommended.
~review by Lisa Mc Sherry
Artist: Uwe Gronau
confido, 2010
www.uwe-gronau.de
* Our review of that album is here.