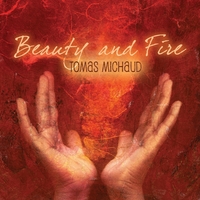 I've been a long-time fan of Ottmar Liebert and the Gipsy Kings with their nouveau flamenco sound as well as Deep Forest with their complicated world beat rhythms. Tomas Michaud's Beauty and Fire is an excellent complement to those artists.
The title song opens the album with a lovely flamenco inspired beat that sets the stage beautifully. "Embrace in the Mist" follows right after and I was loving the start of this album! Unfortunately, the mood is broken by the 3rd song "Beginnings – Prelude to Paradise" which I found jarring as it shifted tempo dramatically to a soft lyrical melody held by a soft guitar and violin, accompanied by a piano.
Tango in Paradise, however, returns us to what I think Michaud does best: Latin-inspired compositions that make you feel like dancing in the arms of the one you love. The rest of the album is wonderful, with "Tribute" being worth a special mention for its strong drum line.
Michaud works with first-class musicians on his albums. Each deserves a shout out: regular bassist David Margen (Santana, Grateful Dead, Joe Walsh, Herbie Hancock) and fretless bassist Kai Eckhardt (John McLaughlin, Billy Cobham). Co-producer Don Turney (Joe Harnell) adds grand piano and keyboards; drummer Thomas Perry (Flametal, Lost Ticket), percussionist Brian Rice (Wake the Dead, Mike Marshall & Choro Famoso), violinist Lila Sklar (Bauhaus, Gypsy Caravan), and cellist Michael Knapp (Silvia Nakkach, Paul McCandless).
The production value is quite good, although there really isn't enough time between songs – several songs run right into one another, and they aren't musically similar enough to make that work, yet also close enough in sound that it can be hard to tell when one ended and another began.
That minor quibble aside, I loved this album and will be sharing it with friends and family – the highest complement I can give!
~review by Lisa Mc Sherry
Artist: Thomas Michaud
Starland Music, 2009
www.worldmelodies.com