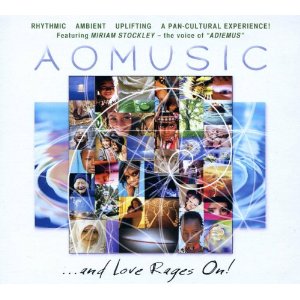 AOMusic is a pan-cultural musical group known for its blend of ethnic rhythms and ambient textures. …and Loves Rages On is their third album. Do you like Deep Forest? How about Tangerine Dream or Angelique Kidjo? You'll love this album.
This is a joyful disc highlighted by complex choral work and thundering percussion work. AO is a Polynesian word that can mean either "pure light" or "all colors" which fits perfectly with the mission of the group's four principals -- singer/string instrumentalist/ composer Richard Gannaway, keyboard, synth player/ composer Jay Oliver, singer/ composer Miriam Stockley and co-producer Sandeep Chowta – all of whom collaborate with the goal of creating universally hybrid sounds that span continents and cultures.
"Gaiya Lo Mane," the opening song, slowly builds from a gentle beginning to a big, dramatic climax and features the openhearted sounds of the Florida based children's choir, The Chorus of Light. "In Lake'ch (I Am Another You)" opens with oud, bouzouki and hand percussion supporting the nearly united vocals of Stockley and Gannaway. The Martve Boy's Choir of Tibilisi, Georgia adds ambient polyphonic vocals to the track's subtle, spellbinding groove. Percussion lines that suggest Ireland, Cuba, India and West Africa open "Shen Deni;" Ashwin Srinivasan's flute and deep, flowing synthesizer textures add to the music's mystic feeling. For fans of chill music, "Sheyu" is among the most ambient tracks on the album, with the lyrics poignantly calling for beauty, joy and hope.
Michael Cooney's pennywhistle set off the vocals of Johannesburg's Bishop Bavin St. George's Children's Choir on "Ena Na Lena" for a perfect Afro-Celtic fusion. The title is the song's only lyric, but the choir's melodic improvisations make the phrase irresistibly catchy. The CRC Children's Choir of Beijing supply the lead vocals on "One Kaleo," over a funky rock 'n' roll beat. The opening verse, in Chinese, references "Little Red Riding Hood," while the chorus voices the album's theme, "One world, one people, one kaleo (voice/spirit/song)." "Ubuntu" has a lively, interlocking percussion track, but the song still creates a soothing, meditative aura to bring the album to a tranquil close.
This album is one of the best I've heard all year – highly recommended!
~review by Lisa Mc Sherry
Artist: AOMusic
2011, AO Music, Arcturian Gate
www.aomusic.com