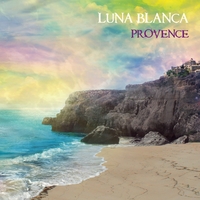 You know how sometimes a melody sounds just like another song, even though they are wildly dissimilar? I may be crazy, but the opening to Luna Blanca's new album, Provence, sounds like an instrumental version of Shakespeare's Sisters' "Stay". The song itself, however, is a lyrical get-your-hips-moving tune that sets the stage for the rest of the album.
Luna Blanca (Richard Hecks and Helmut Gaebe) are joined by pianist Uwe Gronau* on "Mistral" inspired by the famous wind of the region. Other songs feature Bino Dola on rhythm guitar and second lead guitar; and Clemens Paskert on bass, percussion, and additional keyboards. Creme Brulee is sweet and fun, it sounds like a man flirting with a pretty girl. Cote d'Azur uses vocalizations as part of its melodies, creating a feeling much more like Sengalese music than French.
In fact, I didn't find much of the sound to be particularly French, or evocative of Provence itself. As well, they tried to hard to add non-musical sounds to add to the ambience. For example, "Driving" opens with the sounds of an auto being started. "Café" starts with a cell phone ringing and sounds as if it was recorded in a café.
However, I did enjoy the music on the entire album, which is a rare occurrence. It isn't all up-tempo, or slow. I recommend this as background music, perhaps with a little dancing thrown in.
~review by Lisa Mc Sherry
Artist: Luna Blanca
Richard Hecks, 2010
www.lunablancamusic.com
* Please see our review of Mr. Gronau's album, here.